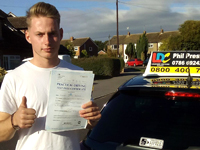 Elliot
Well deserved first time pass and only 15hrs tuition. A real pleasure to work with you. All the best for your future and good luck with the racing
Very nice bloke, relaxed me throughout the few weeks to ensure good results. The LDC skills book sped the process up with constant revising throughout.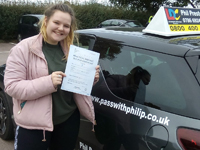 Hannah Mary
Well deserved pass with 30hrs tuition. As you would say
My instructor was amazing, he gave me all the support and confidence I needed to pass my test. I thoroughly enjoyed every lesson I had with Philip because he was very encouraging and trusting which helped my confidence when behind the wheel. Would 100% recommend him as a driving instructor, all the book and DVDs were very helpful and gave me more knowledge that I could use in my lessons.
Josh Pita
Passed 1st Time
Phil was very helpful and successful in teaching me to become a safe and cautious driver. Throughout each lesson he reassured me when i doubted myself and stayed calm whenever i made a mistake. The LD system is such a quick way to learn, without the workbook and DVD i would never have passed my theory and practical first time. I would recommend any learners to get in touch with Phil.